England defender Gary Cahill presents new kit to Crofton Saints U14s
England and Chelsea defender Gary Cahill presented Crofton Saints Under 14's with brand new football kit for the season courtesy of Vauxhall Eden Fareham.
Cahill, who has 15 international caps, visited the boys in the Vauxhall dealership in Fareham to handover their brand new kit, as part of England team sponsor, Vauxhall's, Youth Programme initiative.
Local Vauxhall dealer, Eden Fareham, have shown their commitment to Grass Roots Football in the area by supplying Crofton Saints with the brand new kit.

"It is vital that we support grass roots football in England for the good of the game moving forward - this is a fantastic initiative and one that the squad are proud to support."
Robbie Robinson, Service team Manager at Vauxhall Eden Fareham said, "Supplying Crofton Saints U14s with a brand new kit is just the starting point to an exciting partnership."

"Vauxhall's sponsorship of Crofton Saints highlights the importance of supporting the game from the bottom at Grass Roots level to the top at the International game, and showcases just how committed Vauxhall are as a Home Nations Football sponsor."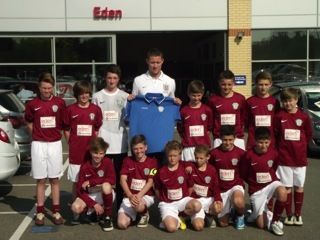 "As well as providing them with their new kit we will have a dedicated member of our staff working closely with the team, who will give their time and ideas to support the club. They will also provide ideas to help support the club whether it's organising the Christmas Party or transport to games."
The Vauxhall Youth Programme initiative follows an extensive study by HPI, commissioned by The FA and England Team Sponsor and FA Youth Partner Vauxhall Motors, to determine the factors affecting drop out within the 14-17 age group and forms part of The FA Vauxhall Youth Programme.
According to HPI Research, the main reasons for the decline in participation in this age group is due to a realisation that they are not going to play professional football, club football becoming more competitive, the lure of other pursuits and external pressures including school work, travel arrangements and part-time jobs.
To watch the kit handover and an interview with Gary Cahill use this link:
http://youtu.be/cOBPe2_KK0A